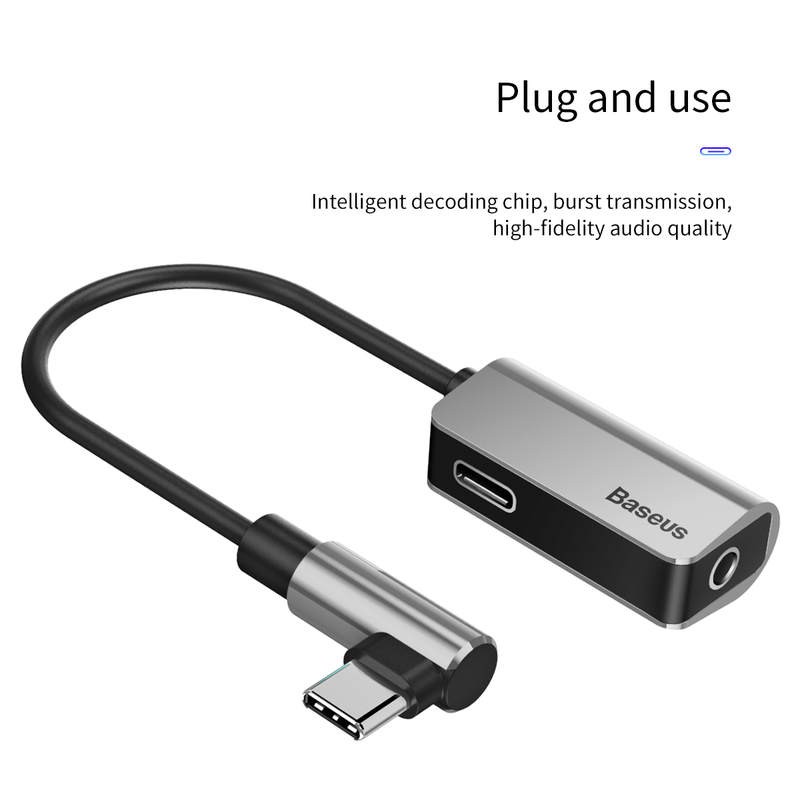  
Baseus Converter L45 Type-C Male To Type-C Female + 3.5mm Female L45
Shipped within 2 working days
Baseus L45 Type-C (input) con cavo per connettori femmina Type-C + adattatori per connettori Jack femmina da 3,5 mm


ricarica e ascolta la musica in contemporanea

Secure purchases
SSL certificate, secure payment process.

Delivery policy
We entrust your purchase to referenced national couriers with tracking

Return policy
Assistance center available for any after-sales problem.
Baseus L45 Type-C (input) con cavo per connettori femmina Type-C + adattatori per connettori femmina da 3,5 mm
Jack 3,5 mm per tutti!
- Buone notizie per i possessori di un singolo telefono di tipo C. Con questo convertitore è un modo semplice per supportare la ricarica, la riproduzione di musica e le chiamate allo stesso tempo. Ti libera dall'acquisto di cuffie di tipo C.
Cavo resistente: resistente e non facile da rompere con materiale TPE flessibile che protegge l'anima del filo. Inoltre, aumenta la gamma dell'adattatore e lo rende più comodo da usare.
Piccolo, leggero e resistente: leggero come una piuma e facile da trasportare. Realizzato con materiali di alta qualità: TPE + lega di alluminio. Con processo di intaglio e levigatura laser che offre un buon tocco e sensazione. Evita l'ossidazione dell'adattatore.
Perfetto per i giocatori: non blocca le mani quando si carica il telefono cellulare e si gioca.
Massima qualità del suono: il chip di decodifica intelligente fornisce una trasmissione ad alta velocità e un suono Hi-Fi. Inoltre, le chiamate vocali sono chiare e non bloccate.
Senza rimuovere la custodia, il nuovissimo design dell'interfaccia ti consente di rimuovere la copertura protettiva durante l'uso.
Nota: il connettore femmina dell'adattatore da 3,5 mm non funzionerà se lo smartphone dispone di entrambe le porte USB-C e 3,5 mm per le cuffie. L'adattatore non funziona con Samsung Galaxy Note 10 e Galaxy Note 10+.
Specifica:
Marchio: Baseus
Nome: Audio Converter L45
Materiale: TPE + alluminio
Corrente: 1,5 A (max)
Dimensioni: 12 x 1,8 x 1 cm; lunghezza cavo: 6 cm
Peso: 12 g
16 other products in the same category:
No customer reviews for the moment.