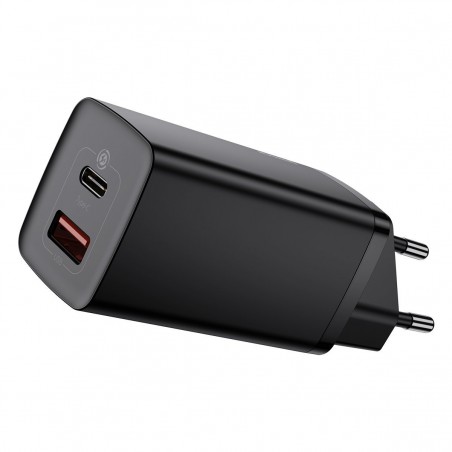  
Baseus GaN2 Lite Quick Travel Charger USB+C 65W EU (black)
Shipped within 2 working days

Secure purchases
SSL certificate, secure payment process.

Delivery policy
We entrust your purchase to referenced national couriers with tracking

Return policy
Assistance center available for any after-sales problem.
Charge two devices simultaneously
The charger from Baseus features two USB Type-C and USB output ports, so you can charge two devices at the same time. Plus, both ports support fast charging. With CCGAN2L-B01 you will charge not only your Android phone, tablet or iPhone, but also your laptop or game console.
Fast charging technologies
CCGAN2L-B01 supports fast charging technologies. Power Delivery 3.0 is a high-voltage charging standard that will quickly and safely charge a wide range of devices, for example, iPhone or MacBook. With Samsung Adaptive Fast Charge you can charge your device much faster than with a regular charger. Phones compatible with this technology are, for example, the Samsung S20/S9. Qualcomm Quick Charge 4.0, on the other hand, will charge your device four times faster than a regular charger. Devices compatible with this fast charging technology include, Xiaomi 10/9 Pro/8. The charger also supports the SCP protocol from Huawei. Phones compatible with SCP, for example, are, Huawei Mate 40/P30.Please note that both the device and the cable should support fast charging. Otherwise, the device will be charged in normal mode. It is also important to note that the power of the charger decreases depending on the number of devices connected.
7 levels of security
The charger from Baseus has passed numerous safety tests and earned multiple certifications, so you can use it without worry. The control chipset matches the current to each device and protects it from damage. With 7 levels of protection, both your device and charger are protected against overcharging, over-discharge, overvoltage, overheating, overcurrent, short circuit and electromagnetic field. BTC technology accelerates heat emission preventing your device from overheating.
Intelligent use of gallium nitride
By using the latest technology, the device from Baseus is 30% smaller than a standard charger and consequently takes up less space. In addition, CCGAN2L-B01 is more efficient than a standard charger because it adjusts the output power according to the battery charge level. With a wide voltage range of 100-240V and a voltage frequency range of 50~60Hz, you can use the charger anywhere in the world. The compact size makes it easy to store, which makes the device ideal for traveling.
Specification
Brand
Baseus
Model
CCGAN2L-B01
Dimensions
85.2 x 30.5 x 92 mm
Input voltage
AC 100-240V, 50/60Hz, 2.5A Max
Output voltage

Type-C1/C2: 5V/3A, 9V/3A, 12V/3A, 15V/3A, 20V/5A

USB1/USB2: 5V/3A, 9V/3A, 12V/3A, 20V/3A

Type-C1 + Type-C2: 65W+30W /30W + 45W, 65W

USB1 + USB2: 5V/3A (15W)

Type-C1/C2 +USB1/USB2: 65W + 30W

Type-C1 + Type-C2 + USB1/USB2: 60W + 20W + 18W

Type-C1 + Type-C2 + USB1 + USB2: 60W + 20W + 15W

Color
black
Weight
205g
Compatibility

Apple Book Pro 16"/ 13"/ Air, etc.

iPad Pro 12.9"/Pro 11", etc.

iPhone 12/11 Pro Max, etc.

Huawei Mate 40/P30, etc.

Samsung S20/S9, etc.

Xiaomi 10/9 Pro/8

Switch host/dock
16 other products in the same category:
No customer reviews for the moment.